I was recently asked if it was possible to take a winter road trip in Greece. Here's my advice, based on having lived in Greece for 7 years.
Visiting Greece in Winter
I recently answered an email someone sent me regarding travelling to Greece during the winter, and specifically January. They had an interest in either doing some hiking on one of the islands, or taking a road trip on the Greek mainland which included a visit to Meteora.
My answer ended up being quite long, and so I have basically copied it below. If you too are thinking of taking a road trip in Greece in winter, this might be useful!
Can I take a road trip in Greece in Winter?
Great news you are planning to visit Greece, and I'm glad you enjoyed my guide to the best places to see in Greece on a road trip.
There's no way I would dissuade you from coming in January, although it goes without saying that there are far better months to travel when it comes to weather!
That said, it's not impossible. Let me outline a few thoughts as they come to me. Firstly, here's a detailed look at renting a car in Greece which might be a useful read.
Greek Islands in Winter
The islands do more or less close down, although Santorini is open through the winter with more limited services.
Crete though is open all through the year. In fact, it's more like it's own country really! It's also a great island for outdoor activities, although in the winter, these become more challenging due to the weather – more about the weather later!
The above photo was taken when hiking in Santorini during November. That's not snow – those are buildings on the Caldera! Check out this article on the best sunset hotels in Santorini.
Driving in Greece during the winter
The roads are open all the year through, and Meteora will be easily accessible in all but the most freak weather occurrence of heavy snow.
Even the road to Arachova (a famous mountain village near Delphi and a jumping off point for a ski resort) will be open, although again you can't predict freak blizzards!
If you wanted to drive up to the ski resorts from Arachova though, at that point you might need chains etc for the tyres.
The above photo was taken at Pelion during the winter. Another area popular with skiers during the winter.
Most of the country is connected by a highway system that uses tolls – open all the year through. Only minor roads in high places may be closed due to snow.
Practical matters
Heating in Greek hotels is not really the best in the cheaper places. In the more expensive places or specific winter lodges it will be much better.
If you were considering to stay near Meteora, you would want to stay at the more upper end hotels from this selection for example, but also still check they had good heating in the winter.
Related: Travelling by Car: Advantages and Disadvantages
The Greek weather in winter
I'm not sure where in the world you are coming from, but we all know the weather is basically screwed around the world right now!
Yesterday (November) we had 22 degrees with sun in the sky here in Athens, today we are due heavy rain with a warning of flash floods in some areas, and tomorrow who knows!!
In Athens in winter last year we had 2-3 days of snow, none of which settled. The further north and higher in the country you go, the greater the chances of snow are, and indeed Greece has a dozen or so pretty good ski resorts.
In January – You might be surprised with how cold it feels at times. It's not going to be shorts and flip-flops weather!
In short
If January is the only time you can visit Greece, then sure, come over! You are going to have a unique experience for sure, and the main attractions (Acropolis, Delphi, Meteora etc) will always be open.
Can anyone predict the weather for that time? No way!
I remember my brother came over to visit in Athens in February and it was warm enough for him to wear T-Shirt and shorts, but a week after he left, the temperature dropped again.
I filmed the Changing of the Guard ceremony in the video below on New Year's Day, which felt quite warm. There's no way to tell what it will do!
If I were to plan a road trip myself, and had the luxury of choosing a month, I would probably pick early May. Nice weather that's more predictable, fewer tourists, etc.
I hope this is of some help with you!
Related: Warmest places in Europe in December
One final observation
We actually took a road trip through the Balkan countries of Albania, Kosovo and Macedonia (FYROM) in January a couple of years ago.
There was deep snow in some places in the cities, but the roads were clear. We definitely saw a side to those countries that most people don't when they travel in the summer.
Perhaps a little challenging at times, but fun. The cold weather there was far more extreme than Greece gets, so you should be fine. Enjoy your time in Greece whenever you eventually choose to visit!
Greece road trip in winter
Readers who want to discover Greece during the winter months often ask themselves questions such as:
Can you travel to Greece in the winter?
If you want to see a different side to the country, winter and the off season can ne a great time to travel to Greece. You won't be able to spend much time on the beaches as it will be too cold, but instead, why not hit a hiking trail, go to a ski resort, or explore a Unesco World Heritage Site without the crowds.
What is there to do in Greece in winter?
The country boasts several notable ski and snowboard resorts, such as Arachova or Kalavryta in the Peloponnese. Winter can also be a good time to visit historic sites without the crowds, and enjoy local delicacies in traditional restaurants.
Is winter a good time to visit Greece?
A winter holiday in Greece will be very different than one taken in the summer months. The weather will be too cold for much beach time, instead, it is the perfect season to explore ancient sites, mountain villages, and even do a little skiing if that's your thing!
Where is the warmest place in Greece in winter?
The lovely island of Crete is one of the most enjoyable, and warmest places to visit in Greece during the cold season. Crete's average winter temperature is around 16 degrees – beach time is not guaranteed, but if you're brave enough, you might still be able to swim!
Wrapping up…
Maybe you're like me and already have a lot of plans for the winter, but if not it may be worth considering traveling to Greece during this time.
Not only will there be less tourists around, the weather is more predictable than other countries in Europe right now. The good thing about visiting at any time really is that most attractions are open all year round!
It's just important to dress appropriately depending on what part of the country you plan on being in as well as checking into hotel heating before booking your stay. In short, I would recommend taking a road trip through Greece sometime between January-March when conditions are best for travel without having too many crowds or unpredictable weather patterns.
Related: Winter Instagram Captions
---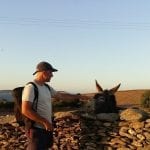 –
Dave Briggs
Dave is a
travel writer
from the UK who's been living in Greece since 2015. As well as creating this useful guide to planning a road trip in Greece during the winter, he's also written many more travel blogs and itineraries for destinations all over Greece. Follow Dave on social media for travel inspiration from Greece and beyond: