There is no direct ferry going from Mykonos to Donoussa in Greece. Travelers would first need to get a Mykonos to Naxos ferry, and then a Naxos to Donoussa ferry.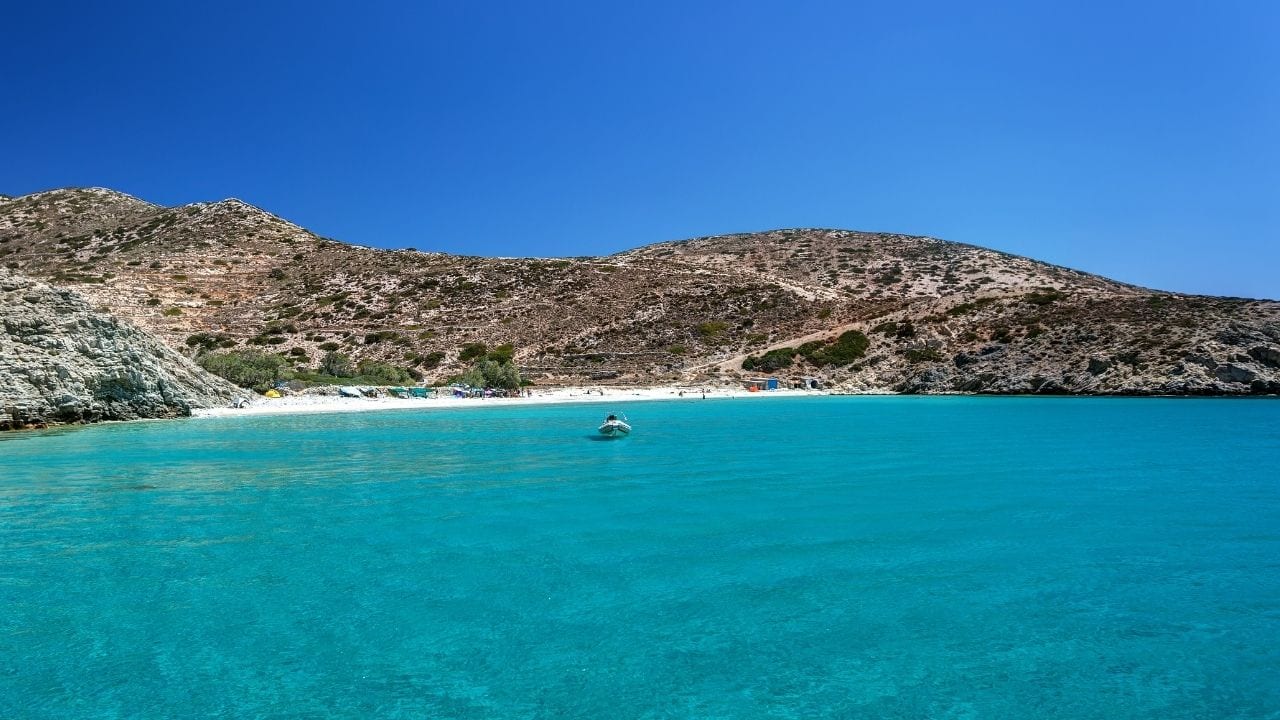 How to get from Mykonos to Donoussa
There is no airport in Donoussa island, so the only way to travel from Mykonos to Donoussa is by using the ferry network.
Even during the peak travel season, there are no ferries traveling directly to Donoussa to Mykonos. Instead, you would first need to take a Mykonos to Naxos ferry, and from Naxos take another ferry to Donoussa.
Whilst the overall travel time is barely three hours, the journey is not completely straightforward. Ferry timetables change from year to year, and even within the same year!
Additionally, whilst there are 2 or even 3 ferries from Mykonos to Naxos per day, ferries between Naxos and Donoussa may only run 4 days per week.
You'll probably have some decisions to make depending on what time of year you are visiting, your own flexibility, and ferry timetables available.
I find that Ferryhopper is a good website to use to book ferry tickets online. If schedules for the month you want to visit aren't online yet, take a look at last year's timetables by going to openseas.gr and putting in the dates for the previous year.
Donoussa Island Travel Tips
A few travel tips for visiting Donoussa island:
---
---
---
---
How to make a trip from Mykonos to Donoussa FAQ
Questions that people ask about traveling to Donoussa from Mykonos include:
How can you get to Donoussa from Mykonos?
The only way to go to from Mykonos to Donoussa is by using a ferry. There are no direct ferries sailing between the two islands, and so you would first have to sail from Mykonos to Naxos, and then from Naxos to Donoussa.
Is there an airport on Donoussa?
There isn't an airport on Donoussa, so the only way to take a trip from Mykonos to Donoussa is to use a ferry. The nearest airport to Donoussa is at Naxos, but unfortunately you can not fly to Naxos from Mykonos either.
How long is the ferry crossing from Mykonos to Donoussa?
In order to travel from Mykonos to Donoussa island you would need to take two separate ferries. The daily ferry from Mykonos to Naxos takes between 40 minutes and an hour and 10 minutes. Ferries from Naxos to Donoussa leave four days a week with the quickest crossing taking 1 hour. The total travel time from Mykonos to Donoussa would depend on the waiting time between boats.
How do I buy ferry tickets to Donoussa?
One of the best places to look at ferry schedules and to book tickets online is at Ferryhopper. I think it's better that you book your Mykonos to Donoussa ferry tickets in advance, but you could also use a local travel agency in Greece.
Visit Other Islands From Mykonos
There are plenty of other islands you can visit after Mykonos. Here are a few suggestions:
---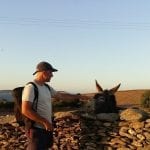 –
Dave Briggs
Dave is a
travel writer
based in Athens, Greece since 2015. In addition to writing this blog post about ferries from Mykonos to Donoussa, he's written hundreds more guides to other destinations in Greece. Follow Dave on social media for travel inspiration from Greece and beyond: