Debating whether to visit Santorini or Milos? Here's a comparison of Santorini and Milos based on my experiences to help you decide!
Comparing Santorini and Milos
Over the last eight years of living in Greece, I've visited both Santorini and Milos perhaps half a dozen times. The fact I've gone back to both of these Cycladic islands more than once probably speaks to how much I enjoyed each one.
Santorini is the more well-known of the two, famous for its stunning caldera views and iconic white and blue buildings. Milos, on the other hand, is a more off-the-beaten-path island that's known for its stunning beaches and unique geology.
Put me on the spot though, and I'll tell you that Milos is my favourite island from the two. I even wrote a book about it! (On Amazon here: Milos and Kimolos).
In a nutshell: Milos has better beaches and is less touristy than Santorini – those cruise ships with thousands of day visitors really crowd up the Santorini experience! Milos is a more laid-back island with a slower pace of life compared to the hustle and bustle of Santorini. It's also got way better beaches and a more adventurous feel.
But that of course is my opinion. I might have different expectations from my holidays, so let's dive into the details and compare Santorini and Milos side by side.
Is Santorini or Milos easier to get to?
Santorini wins hands down here, because it's very easy to get to. Perhaps even too easy, which is half of the problem when it comes to managing crowds on the island.
Santorini has an international airport and is also well-connected to the mainland via ferries and high-speed catamarans. It's also a popular cruise ship destination, with multiple ships docking in the caldera each day. More here: How to get to Santorini
Milos, on the other hand, is a bit more difficult to reach. Milos does have an airport, but flights only connect with Athens, are less frequent and usually more expensive. Most visitors arrive by ferry from Athens or other nearby islands. In addition if there are any cruise ships (and I don't think there are), they are not the hulking monstrosities that plague Santorini. More here: How to get to Milos
Is the Greek island of Santorini or Milos more expensive?
It is difficult to determine definitively whether Santorini or Milos is more expensive. There are various factors to consider, such as the time of year traveled and type of accommodation. Santorini has notoriously high prices for hotels especially in August, but Milos couldn't exactly be classed as a budget travel destination either.
In fact, it is easier to find cheaper hotels in Santorini in the shoulder seasons due to there being so many accommodation options. Milos on the other hand has far fewer hotels and places to stay, meaning that prices might not be so competitive.
It's not all about hotel costs of course, as there's other things to consider. There's meals out (Milos is cheaper and has better food), day tours (Santorini has some surprisingly cheap trips like the volcano tour), and vehicle rental. Overall, I'd say I feel that Milos is just slightly cheaper – but it would depend on what you want to get up to when there of course!
Which island has better beaches – Santorini or Milos?
This is a no brainer – Milos.
Santorini might be famous for its breathtaking views, but it doesn't have the best beaches in Greece. Sure, Red Beach and the Black Sand beaches of Perissa might be unique in their own way, but they are not in the same league as the beaches in Milos.
On the other hand, Milos has some of the most stunning beaches in Greece, from the picturesque Sarakiniko to the secluded Tsigrado. During one trip to Milos, I enjoyed enjoyed Agia Kriaki the most, while on another trip, I preferred Achivadolimni beach.
There's over 80 beaches in Milos, (maybe rent an ATV to get to some of the more remote ones), so you'll be sure to find one you like!
Santorini vs Milos for sunsets?
Santorini has developed a reputation for having some of the most stunning sunsets in the world. On a perfect evening, it's hard to beat the experience of watching the sun dip below the horizon from the edge of the caldera in Oia or Fira.
Let me caveat that though – that's on a perfect evening! Most of the time, the sunset is a little disappointing for a whole variety of reasons, and the crowds at Oia castle waiting there to watch it rub the shine off the experience.
Milos, on the other hand, might not be as famous for its sunsets, but the island still offers some great places to watch the sky turn pink and orange.
There are several spectacular places to watch the sunset in Milos. One of them is Klima, a picturesque village located a short drive from Plaka. The sunset in Klima is particularly stunning and visitors have the option of dining at Astakas restaurant while enjoying the view.
Again though, it all depends on the weather conditions as to if you get a good sunset or not. I'd say Santorini and Milos are about equal on the sunset comparison.
Is Santorini or Milos easier to get around?
From my experiences on both islands, I found that Santorini had the better bus network. During the shoulder season, it was easy to get around the island using public transportation. However, during the peak season, the buses can get quite crowded and the schedules can be unreliable.
Milos, on the other hand, is a bit more difficult to navigate using public transportation. While there are buses that run around the island, they can be infrequent and may not stop at all the beaches. The best way to get around Milos is by renting a car or ATV, particularly if you want to explore the more remote areas of the island.
Overall, I would say that Santorini is easier to get around if you're relying on public transportation, but Milos is more easily navigated if you have access to a car or ATV.
Is there more to do in Santorini compared to Milos?
Both Santorini and Milos have plenty to offer in terms of activities and attractions, but Santorini may have more options for things like volcano trips, winery tours, and ancient ruins. However, Milos has better beaches and the Kleftiko Bay boat tour is far more memorable than the Santorini volcano tour.
Santorini is famous for its caldera views and beautiful architecture, with Oia being a popular spot for photo opportunities. While Plaka is nice, Milos doesn't really have this sort of thing to the same extent.
Both islands have good outdoor activities and breathtaking landscapes. Hiking from Fira to Oia is probably the best thing to do in Santorini and manageable for most people, while the Kleftiko Bay hike is really only for the dedicated few but equally as amazing.
Overall, I'd say Santorini just edges out Milos on the things to do scale, although there's more than enough on both islands for people just staying a few days.
Why not visit both Greek islands?
Still undecided about whether to visit Santorini or Milos? Why not include both islands in your Greek island hopping trip.
As Milos and Santorini are both in the Cyclades group, there are plenty of ferries traveling between them. During the busiest months of summer, there can be up to 2 ferries per day from Santorini to Milos. SeaJets offer the most ferries sailing between Milos and Santorini.
Look at ferry timetables and schedules at: Ferryhopper
FAQ About Comparing Santorini and Milos
Readers planning to go island hopping in Greece and considering whether to add Santorini or Milos to their itinerary often ask questions such as:
Which is better Milos or Santorini?
Milos is considered better than Santorini due to its better beaches and less touristy atmosphere. Most visitors prefer the beaches on Milos, and the lack of cruise ship visitors makes for a less crowded island overall.
Is it worth going to Milos?
Milos is definitely worth visiting. It has numerous amazing beaches, unique landscapes, traditional villages, and plenty of things to see and do. Visitors should plan to stay for at least three days in Milos, but longer stays will be as equally rewarding. While becoming increasingly popular with tourists, Milos has retained its authentic edge due to strict building regulations, and large resort-style hotels are not a thing here.
Why is Milos so popular?
Milos is popular because it has incredible beaches, a laid-back atmosphere, and great food, making it suitable for anyone who likes those things. It is also known for its local cheeses, pumpkins, and sweets. Additionally, it has unusual landscapes largely a result of volcanic activity, giving it a wild, adventurous edge.
Which one is nicer Santorini or Mykonos?
There is no clear answer to which island is nicer, as it depends on personal preferences and what type of Greek vacation one is after. Santorini is known for its unique landscapes and romantic views, while Mykonos is famous for its wild partying and beautiful sandy beaches.
---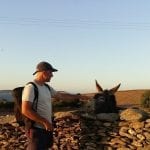 –
Dave Briggs
Dave is a
travel writer
who writes about and lives in Greece. If you enjoyed this guide comparing the pros and cons of visiting Santorini and Milos, you might want to check out some of the other itineraries and insights about popular tourist destinations in Greece on this website. Follow Dave on social media for travel inspiration from Greece and beyond: