I always find December to be a month for two things. Reflection on the year that has just passed, and anticipation of the one ahead. It's also the month where I like to plan my travel adventures for the next year. Will bicycle touring in the Philippines be on the cards? Let's see…
By Tuderna, CC BY 3.0, https://commons.wikimedia.org/w/index.php?curid=52839441
Why The Philippines?
As regular readers of Dave's Travel Pages may already know, I have been fortunate enough to have cycled in many places around the world. I haven't been to every country though, and the Philippines is one I still have to visit.
The fact that everyone says it is beautiful, the people are welcoming, the beaches amazing, and it is budget friendly are all additional bonuses of course! Even in the capital Manila reasonably priced accommodation can be found.
When To Visit The Philippines For Bicycle Touring
Bicycle touring in the Philippines then, seems like a good way to spend a few weeks or a month in 2017. Most people suggest that the months between December and May are the best time of year to visit the Philippines.
As I already have several trips planned for between January and May in 2017, I would probably be looking at December next year. Although it is a long time away, it does give me a while to train and plan! Christmas 2017 in the Philippines also has a nice ring to it.
Where To Go Bicycle Touring In The Philippines
This is the difficult bit! At 300,000 km², it is the 64th largest country in the world. Add on to that, the fact that there are over 7000 islands, and you can see that picking a good route for bicycle touring in the Philippines is going to prove a bit of a challenge!
Luzon is the main island, and also where the capital Manila is located. This makes it an obvious starting point for a bicycle tour in the Philippines, and unless I decide to cycle on to another country, would also be my ending point. This means some sort of loop of the main island would make sense, but I would also need to combine it with visiting some other islands such as Palawan.
I always find it useful to plan some trips around the 'must sees' of a destination. The general consensus, is that these are the top 10.
Top 10 Must Sees In The Philippines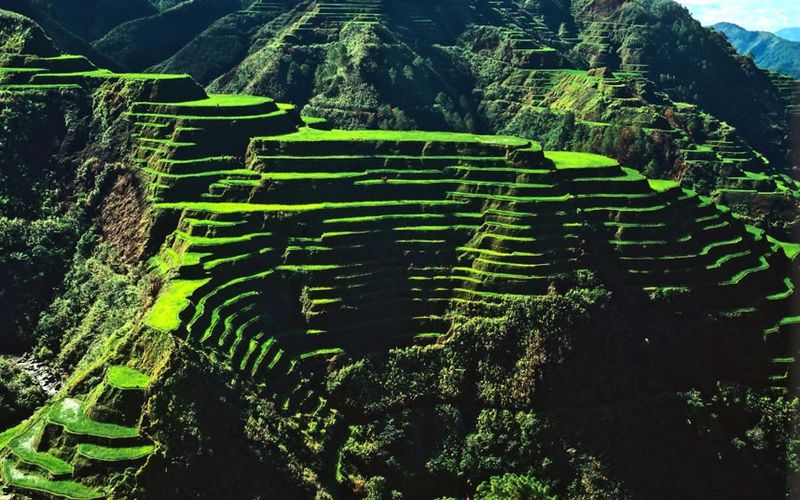 By Nonoyborbun – Own work, CC BY-SA 4.0, https://commons.wikimedia.org/w/index.php?curid=42430422
Manila (An obvious starting point for bicycle touring in the Philippines).

Baguio

Banaue

The Cordillero Highlands

Mayon Volcano

Malapascua Island

Cebu

Bohol (For the Chocolate Hills)

Palawan

Boracay
How Long To Take
This is the big question! Last year, I spent 2.5 months cycling from Greece to England. Bicycle touring in the Philippines would require at the very least 6 weeks if I wanted to include the points of interest mentioned above. More time would of course be better! The slight drawback here, is that December seems to be my busiest month in regards to my freelance work. (Which is one of the reasons I am working towards creating passive income online).
Your Help Required!
So, if I was to go bicycle touring in the Philippines in 2017, what route would you suggest I take? Do you have any more points of interest I should definitely add, do you have any travel tips for cycling in the Philippines, or any more advice? As always, I would love to hear from you. Please leave a comment below!